Polillo Dragon Boat Team: Sailing Towards Excellence
The Polillo Dragon Boat Team is filled with excitement and gratitude as they prepare to represent not only their hometown of Polillo but the entire province of Quezon in the Dragon Boat Sport both within the country and on the international stage. This incredible opportunity has been made possible due to the unwavering support of their dedicated sponsors.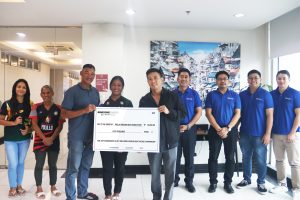 Left to Right: Polillo Dragon Boat Team, MHI President and CEO Mr. Gerwyn See,
General Manager Mr. Roseller de Leon and the REP team.
Founded right after the 2017 Polillo Town Fiesta's dragon boat competition, the Polillo Dragon Boat Team (PDBT) has been on a mission to promote and develop dragon boat sports among their kababayans, regardless of age, gender, or social status. Their aim is to position their town as a pioneer in this sport in Quezon, ready to compete in both local and international races.
Currently, the PDBT consists of around sixty paddlers, both active and inactive, and the team continues to grow. As a testament to their dedication and skill, they are now proud members of the Philippine Dragon Boat Federation (PDBF), the country's national governing body for dragon boat racing. PDBF holds recognition from both the International Dragon Boat Federation and the Asian Dragon Boat Federation.
As PDBT prepares for the highly anticipated 16th IDBF World Dragon Boat Racing Championship, taking place from August 7 to 13, 2023, in Rayong-Pattaya, Thailand, they have received invaluable support from their sponsors, including Renesons Energy Polillo (REP). This sponsorship from REP will help enable the team to fulfill their financial requirements for airfare, food, accommodation, and other essential expenses.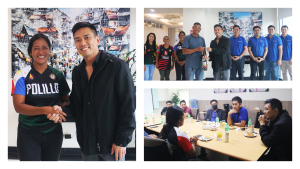 MHI President and CEO, Mr. Gerwyn See, and his team had a supportive talk to wish
the Polillo Dragon Boat Team (PDBT) good luck in their upcoming international competition in Thailand.
In a show of gratitude, the PDBT representatives, accompanied by Team Manager Ms. Gina Flores and Coach Ricky Sardena, recently visited MASE Holdings Inc. (MHI) in Bonifacio Global City, Taguig. MHI is the parent company of Renesons Energy Polillo. During their visit, the team had a meaningful conversation with MASE Holdings' President and CEO, Mr. Gerwyn See, expressing their heartfelt appreciation for the invaluable support provided by the company.
Coach Ricky Sardena, a native of Polillo, has an illustrious history as a dragon boat athlete, spanning over two decades. A former pacer and team captain of the Philippine National Dragon Boat Team, he is a multiple-time world champion and world record holder in this exhilarating sport. With Coach Ricky's unparalleled expertise and experience, the Polillo Dragon Boat Team has consistently delivered exceptional performances in every race they have participated in.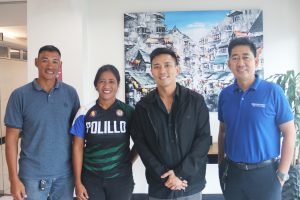 Left to Right: Polillo Dragon Boat Coach, Mr. Ricky Sardena, PDB Team Manager, Ms. Gina Flores,
MHI President and CEO Mr. Gerwyn See, and General Manager Mr. Roseller de Leon.
In conclusion, The Polillo Dragon Boat Team's pursuit of excellence reminds us that with dedication and unity, dreams can become reality, and boundaries can be transcended. As the paddlers brace for the championship, we eagerly await their shining moments and celebrate their triumphs, knowing that their journey is an enduring source of pride and inspiration for the entire nation.